As per Memory Usaman (CEO at Be Still Investments)' words "…The Rwanda Global Health Summit 2021 is perfectly launched at the start of a new decade during an unprecedented and uncertain time in global healthcare. This edition of the Summit will serve to highlight some of the most pressing contemporary global health challenges such as the coronavirus pandemic, Covid-19 national strategy, mental health ecosystems, and other pertinent topics in healthcare that are currently taking the back stage such as nutritional health, heart disease, diabetes, cancer, etc. The summit will also address topics such as healthcare quality, role of digital health in crisis management, Clinical trials in the New Health Economy, workforce shortages in healthcare, technological disruptions etc…"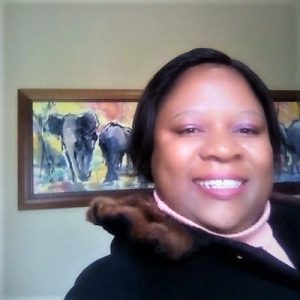 By Memory Usaman
Founder & Chief Executive Officer at Be Still Investments-BSI organisers for Rwanda Global Healthcare Summit
Rwanda Global Healthcare 2021 Summit 
Theme: Global Health Delivery, Introduction Of New Ideas And Digital Innovation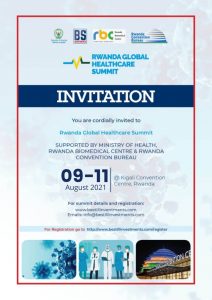 About the event
Rwanda Global Healthcare Summit is an international three day event taking place in the beautiful & vibrant city of Kigali, Rwanda from 9th to 11th August 2021. The upcoming event is enriched with the combination of both realism in global healthcare delivery of today's world & the opportunities the rapidly-evolving technologies bring to healthcare. Currently, the event is featuring more than 40 speakers from around the globe including Government delegates, healthcare industry experts, digital health experts, medical experts, pharma delegates & cultural icons who will address more than 1200 delegates in real time during the summit. There is a huge participation taking place from African sub-continent & from around the globe, where International hospitals, pharmaceutical companies, medical device companies, startups, NGOs' to the biggest healthcare agencies are partnering so far from all over the world. We are committed to make it the biggest healthcare event in Africa for 2021.
The summit has already been endorsed by the Honorable Minister of Health in Rwanda, Dr. Daniel Ngamije and he will also inaugurate the summit which is supported by Rwanda Biomedical Centre, Rwanda Convention Bureau, FDA Rwanda and Rwanda Development board 
Be Still Investments Rwanda, the organisers of the Rwanda Global Healthcare Summit assures their respectable coming partners & sponsors, exhibitors, delegates and speakers to accept the assurance of the Ministry of Health's highest consideration for the event. Our mission is to spark a global conversation on the healthcare of today, our pandemic preparedness and to raise the social consciousness of global health in 2021 and beyond. The summit will feature a range of pertinent topics that seek to empower and enable stakeholders to address the sustainable development goal of Health and Wellbeing for all.
Why This Is A Must-Attend Event of the Year in the African Sub-continent
Three-day conference aims to focus on the leadership challenges nations are facing in healthcare today.
A forum to widen and enrich the healthcare delivery and discuss the latest innovations in the sector.
Create opportunities for health experts from a range of disciplines and geographies to share their research ideas.
Engage with specialists in the domain of Pharmaceutical Sciences and Drug Manufacturing.
Increase knowledge by exploring the presentations of new techniques, novel approaches, unpublished data under one platform.
Advocate for areas of action in healthcare to achieve better outcomes and plan for future changes.
Develop tangible outcomes (e.g., strategic direction, policy papers, blueprint for action) to improve health care systems, delivery and digital technologies.
Creating great networking and business opportunities for the delegates, sponsors & participants.
Attracting hundreds of diverse exhibitors, from established fortune 500 companies to start-ups.
Why Rwanda
Rwanda has proven itself to be an extraordinary African success story & a pioneer in digital health in Africa. Emerged as East Africa's investment gateway, it's a market of over 12 million people with a rapidly growing middle class. Rwanda is a hub for rapidly integrating Africa, located centrally in the region and is part of East African Community (EAC) Common Market and Customers Union with a market potential of over 132 million people. It is also signatory to the 2018 Kigali African Continental Free Trade Area Agreement (ACFTA) currently being implemented under the African Union. Rwanda is showing the world how they can sustainably tackle the challenges in healthcare, and make it accessible and affordable for all at the same time." The nation has made significant strides to enhance healthcare delivery to its population of 12 million people as it keeps demonstrating its appetite to undertake ambitious new approaches to addressing its challenges. Rwanda is internationally recognized for its success in offering universal access to healthcare. With over 84% of Rwandans insured by the mutuelle de santé, Rwanda has ensured that her citizens have access to primary health care. Rwanda plans to expand the provision of better health care and develop medical tourism through the attraction of state-of-the-art and specialized medical facilities. Technology is a big focus for Rwanda, so let's come together to support & advance the progress towards the country's long-term development goals.
The Rwanda Global Healthcare Summit is divided into:
The Conference
The conference is open for the abstracts for oral, poster presentations and symposia with the theme "Global health delivery, introduction of new ideas and digital Innovations". All the original research abstracts and innovations are invited.
The Exhibition
With over 1,200 delegates this event is a perfect platform for all the companies to gain visibility in the growing African Healthcare, ICT Service Solution Providers, Pharmaceutical & Supplements, Medical Equipment & Devices, Surgical Sundries, Instruments, Reagents etc. market.
We are conducting Business to Business sessions, where Business owners & Decision Makers get time to give short presentations on what their esteemed organisations are doing or have achieved. Sponsorships will make your brand accessible & visible to the opinion makers, potential buyers & customers. It's the best place for product launch, networking, workable business deals & winning more customers, all under one roof. We have more than 100 booths for the exhibitors in the Kigali Convention Center for three days to showcase the products & services.
What are we covering
The Rwanda Global Health Summit 2021 is perfectly launched at the start of a new decade during an unprecedented and uncertain time in global healthcare. This edition of the Summit will serve to highlight some of the most pressing contemporary global health challenges such as the coronavirus pandemic, Covid-19 national strategy, mental health ecosystems, and other pertinent topics in healthcare that are currently taking the back stage such as nutritional health, heart disease, diabetes, cancer, etc. The summit will also address topics such as healthcare quality, role of digital health in crisis management, Clinical trials in the New Health Economy, workforce shortages in healthcare, technological disruptions etc.
The power packed 3 days event consists of 11 featured tracks & 52 sub-tracks:
Covid-19
Clinical
Public Health
Digital Health
Lifestyle
Social determinants of Health
Nursing and Midwifery Care
Communicable Diseases
Healthcare Quality & Patient safety
Healthcare as Entrepreneurship
Pharma & Life Sciences
Who should attend
The Rwanda global Healthcare Summit provides an excellent forum for entire healthcare fraternity, National & International Healthcare & social agencies, Private & Public healthcare providers, Medical Doctors, Nursing, Other Healthcare Frontlines,  Regulatory Bodies, Policy makers, Government Heads & Officials, Directors & Deans, Academia, Paramedics, Medical Devices Manufacturers, Suppliers, Entrepreneurs, R&D, Midwives, NGOs, Medical University students, Health Experts, Health Informaticians, Computer scientists, Public health experts, Epidemic intelligence systems providers, IT/SM industry, Pharmaceutical manufacturers & suppliers, Block-chain Specialists, Big Data Scientists, Bio-Medical Technologists, Bioinformatics, Sports medicine, Physiotherapists, Environmentalists, Health Insurance companies, Training Institutes, Healthcare quality professionals, Patient safety expert, Design thinking experts, Human Factors Expert, Patient Advocates, Technologists, Pharma Distributors, Economists, Biotech, Med-tech, Life-sciences, Diagnostics, Digital Health Specialists, AI Companies, Startups & more.
Some of our esteemed partners so far
Rwanda Ministry of Health, Rwanda Biomenidal Centre, Rwanda Convention Bureau, FDA Rwanda, Rwanda Developments Board, WHO, WaterAid, UNICEF USAID, SAFAIDS, Partners In Health, Nuralogix, MedAditus, Healthinnovationtoolbox, Zipline, Babyl Rwanda, Kipharma, Cedars Sinai, Rwanda Youth Impact, Sanitas Hospitals, Digital Machina, Turkey Green Crescent, Rwandair, Kenya Airways, THC, Africa Medical Suppliers, Novartis, Pyramid Pharma, Manorama SMAC, Legacy Speciality Clinic & many more.
Our invite
Rwanda Global Healthcare Summit 2021, Conference & Exhibition is the most distinct & can not-miss healthcare event of the year in the Africa Sub-continent, where healthcare stakeholders from around the global healthcare ecosystem are going to connect for addressing complex health and social issues, digital innovations & cross ecosystem collaboration. With a bid to become an international investment hub for the budding East African Community as well as International investors, we invite every healthcare stakeholder globally to partner in this event as we collaboratively focus on building agreement around the barriers in healthcare and discussing solutions to overcome them through cross-sector panels, action-oriented discussion, and networking opportunities. By shedding light on the strengths and challenges of different groups, we believe we can make real progress together to achieve our vision to improve healthcare globally.
For further information, please visit: www.bestillinvestments.com