…In order for countries to achieve Universal healthcare, a focus on maternal and newborn health is imperative.  Universal healthcare coverage is part of the aim of the UN Sustainable Development Goal 3, which is related to healthcare…

…To this end, PerkinElmer held a thought leadership event to bring together doctors, patient organisations and policy makers, and gather their valuable insights on the way forward. "What the current gaps that we need to address are and what we can learn from the past" was one of the several key topics discussed by the opinion leaders…

…We noted that several pregnancy related conditions, such as preeclampsia and placenta praevia, can have disastrous effects on women if they are not diagnosed early enough to ensure proper management and treatment. We also know that some places in Europe still face clear challenges in achieving effective management of antenatal care to ensure healthy newborns…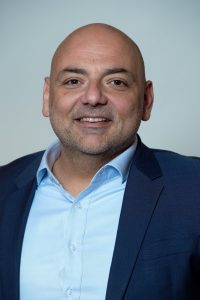 By Serge Moubarak
Vice President & General Manager, PerkinElmer, Europe, Middle East, Africa & India (EMEAI)
Serge.Moubarak@PERKINELMER.COM 
Improving Maternal and Newborn Health Outcomes in Europe
COVID-19 has unfortunately set us back from the great strides that were being made to save and improve the lives of at-risk pregnant women, mothers and babies across different countries in Europe. It is therefore imperative that we renew our focus on improving health outcomes.
To this end, PerkinElmer held a thought leadership event to bring together doctors, patient organisations and policy makers, and gather their valuable insights on the way forward.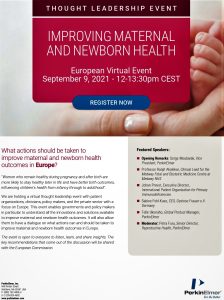 "What the current gaps that we need to address are and what we can learn from the past" was one of the several key topics discussed by the opinion leaders. We noted that several pregnancy related conditions, such as preeclampsia and placenta praevia, can have disastrous effects on women if they are not diagnosed early enough to ensure proper management and treatment.
We also know that some places in Europe still face clear challenges in achieving effective management of antenatal care to ensure healthy newborns. We believe that every aspect of the care pathway from pregnancy to antenatal care, to post-natal care, is important in ensuring the health of mothers and babies.
Placenta health
The success of pregnancy is dependent on three factors: the baby, the placenta and the mother. Every one of them must be in good health to secure a healthy outcome for both the mother and the baby. Assessing the baby and ignoring the umbilical cord and the placenta would result in an incomplete picture. Problems with placental health are by far more common than pregnancies with Down's Syndrome or birth defects.
Stillbirths
Stillbirth is one of the pregnancy related outcomes that still represents a challenge in Europe. There are no international guidelines for the prevention of stillbirths, and there are variations in Europe. There is, however, data available on the stillbirth rates in the continent, which are maintained by the European Perinatal Statistics.
Preeclampsia
In Europe, over five million babies are born each year, and two to eight per cent of pregnancies – which equates to more than one in 50 pregnant women – are affected by preeclampsia. When preeclampsia develops, it is considered as a serious condition that needs immediate treatment, often leading to premature births. Thus, preeclampsia not only affects the mother, but also the baby and the outcome of the pregnancy. Preeclampsia and preterm birth are also associated with the development of chronic illnesses and metabolic diseases in later life.
Screening for preeclampsia in the first trimester of pregnancy is a simple and cost-effective procedure consisting of a simple blood sample, combined with maternal history and blood pressure measurement. It provides the necessary information to predict the risk of developing preeclampsia with a high detection range. Screening has the potential to protect hundreds of thousands of mothers and babies from this life-threatening disorder.[1]
Preeclampsia affects quite a number of pregnancies and can be linked to an increased risk of adverse pregnancy outcomes such as fetal growth restriction, pre-term birth and stillbirth.[2] Through prevention, early diagnosis, and treatment some of these health conditions that women face can be alleviated.  There are tests on the market showing that placental growth has a great potential in ruling out preeclampsia.
With currently used methods, only about 40 per cent of the women that are at high-risk of developing preeclampsia before week 37 are identified in early pregnancy and there is no proper preventive care in place. Statistics in many European countries reflects the limited achievements in this field. Finding biomarkers to improve on the low percentage of identification was a key objective when PerkinElmer started a research collaboration programme with Professor Poston, Shannon and Robson in 2004.
ASPRE was a Seventh Framework Programme (FP7) EU funded, randomised control trial (RCT) to examine the efficacy of Aspirin to treat women identified as high-risk of preeclampsia in the first trimester of pregnancy between 11-14 weeks gestation. Using a combination of maternal history, an ultrasound marker, blood pressure and a biochemical marker, and placental growth factor, they were able to detect 75 per cent of women who would develop preeclampsia before 37 weeks.[3]
The high-risk group, which was 10 per cent of the pregnant population, were given 150mg Aspirin daily. The results exceeded expectations: overall, 62 per cent of preterm preeclampsia cases which would develop before 37 weeks gestation and 89 per cent of the most serious cases which develop before 32 weeks gestation were prevented. In pregnancies at high-risk of preeclampsia, administration of aspirin reduces the length of stay for the babies in the neonatal intensive care unit by approximately 70 per cent. The ASPRE study was published and acclaimed as the most important breakthrough in obstetrics in the past 20 years, by the editor of the American Journal of Obstetrics and Gynaecology.
Preeclampsia does have long term consequences, again, for mother and baby. The mother could develop cardiovascular diseases, hypertension, heart failure or suffer a stroke. Newborns could also suffer from cardiovascular problems. Therefore, it is imperative that health systems prioritise screening and diagnosis of preeclampsia. The implementation of a first trimester preeclampsia screening programme and adopting better preeclampsia management practices will improve pregnancy outcomes, and this will have a positive impact on the economic burden to country healthcare systems. 
Newborn screening for rare disorders
Centers for Disease Control and Prevention (CDC) and other public health bodies around the world hail newborn screening as one of the 10 great public health achievements of the 20th century. Many developed countries have built upon that success and added additional conditions for screening. A heel prick bloodspot screening test taken by a health professional is all that is required to diagnose disorders on babies. After this simple procedure, biochemical blood tests are performed on the dried blood sample to diagnose a number of serious disorders.
Newborn screening has the ability to save babies from severe and life-limiting conditions. Rare diseases can be both life-limiting and life-threatening, and disproportionately affect children. Seventy-five per cent of rare diseases affect children and more than 30 per cent of children with a rare disease die before their fifth birthday.[4]
After birth, many babies are healthy and will not have any conditions that could be identified by newborn screening tests. However, for those babies who do have health problems, the benefits of screening can be enormous. Early diagnosis and treatment can improve the affected babies' health and prevent severe disability or even death in some instances.
Newborn babies can be screened for over 50 potentially life-threatening disorders. Many countries in Europe screen for 20 or more conditions, while parents in the US have the option to test for more than 50 conditions.
Apart from the diagnosis and treatment of these rare disorders such as metachromatic leukodystrophy (MLD) and severe combined immunodeficiency (SCID); efforts are underway to gain adoption of the diagnosis of spinal muscular atrophy (SMA) in Europe and globally.
Conclusion
In order for countries to achieve Universal healthcare, a focus on maternal and newborn health is imperative.  Universal healthcare coverage is part of the aim of the UN Sustainable Development Goal 3, which is related to healthcare.  There are targets that relate to maternal and infant mortality reduction. 
The relevant targets are:
3.1 By 2030, reduce the global maternal mortality ratio to less than 70 per 100,000 live births.
3.2 By 2030, end preventable deaths of newborns and children under 5 years of age, with all countries aiming to reduce neonatal mortality to at least as low as 12 per 1,000 live births and under-5 mortality to at least as low as 25 per 1,000 live births.[5] Without a global focus on these areas goal 3 will not be achieved.
All in all, having a focus on the prioritisation of services and care for pregnant women, mothers and babies will provide better outcomes.
We look forward to working in collaboration with key stakeholders to improve health outcomes for pregnant women, mothers, and babies.
References
[1] Rolnik DL (2017) ASPRE trial: Performance of screening for pre-term preeclampsia. Ultrasound Obstet Gynecol. 2017 Jul 25. doi: 10.1002/uog.18816
[2] Ankita Malika,1, Babban Jeeb,1, Satish Kumar Guptaa,⁎ Preeclampsia: Disease biology and burden, its management strategies with reference to India. Pregnancy Hypertension 15 (2019) 23–31
[3] Rolnik DL (2017) ASPRE trial: Performance of screening for pre-term preeclampsia. Ultrasound Obstet Gynecol. 2017 Jul 25. doi: 10.1002/uog.18816
[4] https://www.gov.uk/government/publications/uk-rare-diseases-framework/the-uk-rare-diseases-framework#introduction
[5] United Nations Sustainable Development Goals – https://indicators.report/targets/3-2/