PEAH is pleased to feature here a Certificate Course on Public Nutrition, Public Health and Public Policy, which was structured by our acknowledged partner Ms Veena Rao and reviewed by Indian and international experts. The Course will be taught through the Centre for Extended Education, Mount Carmel College, Bangalore and the Auro Centre for Public Nutrition, Public Health and Public Policy, India, for which Ms Rao is Director. The Course will begin in August this year and will be taught in an interactive online mode. An introductory Webinar about the Course, maybe the first of its kind in India, will be held on May 21 at 4 pm, India time
Comprehensive Certificate Course on Public Nutrition, Public Health and Public Policy
Dear Sir/ Madam,
Mount Carmel College, Autonomous, Centre of Extended Education(CEE), in collaboration with Sri Aurobindo Society Auro Centre for Public Nutrition, Public Health and Public Policy is pleased to announce a forthcoming, comprehensive Certificate Course on Public Nutrition, Public Health and Public Policy.
Our pursuit is to proliferate education and transform students into professionals who further, responsibly achieve, and exercise their potential to empower society.
Course Commencement- August 2022
Admissions Starts : June 2022
Admission Link is provided in the brochure

Duration of the Course - 6 months

Minimum Qualification: Graduation in any field (Pursuing or Completed)

Open to Students and Professionals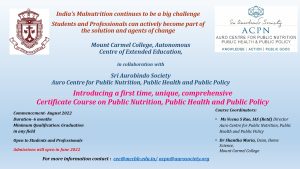 The course is designed to enable a student to:
– Study India's nutritional indicators and their causes.
– Understand the state of Public Nutrition in India, the varied dimensions of Food and Nutrition Insecurity as it exists in India, and how it impacts public health and human resource development and economic development.
– Critically examine the Policy responses, initiatives or lack of them, and their effectiveness in addressing the problem of Food and Nutrition Security and Community Nutrition in India
– Study the design and content of ongoing national programmes addressing undernutrition and micronutrient deficiency, and their impact.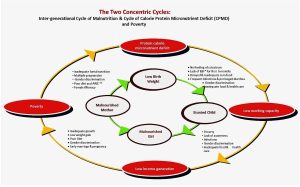 Interested candidates are invited to participate/ enroll in this Program.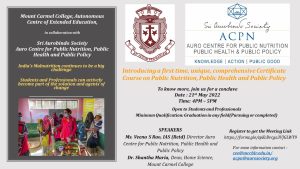 A conclave is conducted on the 21st May, Saturday, 2022.
Date : 21st May 2022

Time: 4PM – 5PM

Register to get the Meeting Link

https://forms.gle/spKcBvcga3VJGLWY9