News Flash Links, as part of the research project PEAH (Policies for Equitable Access to Health), aim to focus on the latest challenges by trade and governments rules to equitable access to health in resource-limited settings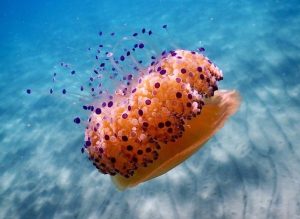 Egg jellyfish (Cotylorhiza tuberculata)
News Flash 530
Weekly Snapshot of Public Health Challenges
WEMOS VACANCY: GLOBAL HEALTH ADVOCATE (32-36 HOURS). Submit your letter of motivation and curriculum vitae to jobs@wemos.nl by 21 June 2023 at the latest
Care is the beating heart of an economy moving Beyond Growth
Making Billions for Billions: Unleashing the Power of Social Entrepreneurship  by Sumedha Kushwaha
Medicines Law & Policy: Submission to the US International Trade Commission
Africa Decries Weakening of Equity Provisions in New Pandemic Accord Draft
Pandemic Accord: MSF statement on INB Bureau's text
China's COVID-19 Outbreak to Peak At 11 Million New Weekly Cases
Toward Comprehensive Care for Long Covid
Thursday, July 27, 2023 3rd Virtual Symposium on Advances in Malaria Research
Developing evidence-informed indicators to monitor HIV pre-exposure prophylaxis programmes across EU/EEA countries: a multi-stakeholder consensus
MSF calls on Gavi to step up efforts to improve vaccine access for children up to at least five years old
Gavi is On Track to Vaccinate 300 Million More Children by 2025
Antimicrobial resistance: EU health ministers approve recommendation
Global incidence in hospital-associated infections resistant to antibiotics: An analysis of point prevalence surveys from 99 countries
Assessment of quality of essential medicines in public health care facilities of Nepal: Findings of nationwide study
Pharmacopeial quality of artemether– lumefantrine anti-malarial agents in Uganda
1 in 3 Children Suffer from Lead Poisoning—so Why is Lead Reduction Such a Heavy Lift?
WHO calls on Asian countries to quit tobacco farming
Upending the model of AI adoption
UN chief calls for coordinated global action on disinformation, hate and artificial intelligence
HRR 682 NATURE: 1; HUMANITY: 0 …OR THE OTHER WAY AROUND?
New Report Highlights U.S. 2021 Gun-Related Deaths: For Second Straight Year, U.S. Firearm Fatalities Reached Record Highs
Global protection against cybercrime now within reach
FOOD SECURED: The future of food and nutrition in a fragile world
Transforming Food Systems through Conscious, Mindful Practices
Is India's renewable energy push a threat to food security?
Not My Problem: Breaking Down Sectoral Silos in School Meals
We Need to Talk About Deep Blue Carbon