Find out below an article by the Centre for Cultural Diversity in Ageing which is funded by the Australian Department of Health under the Partners in Culturally Appropriate Care (PICAC) program. The Centre provides expertise in culturally inclusive policy and practices for the aged services sector, while supporting aged care providers to address the needs of older people from culturally and linguistically diverse backgrounds For more information visit www.culturaldiversity.com.au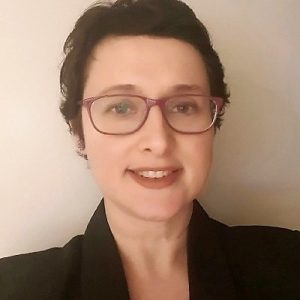 By Biljana Grbevska
Project Administration Officer, Centre for Cultural Diversity in Ageing
biljana@culturaldiversity.com.au
 The "One Size Does Not Fit All" Podcast Series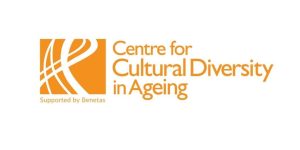 The "One size does not fit all" podcast series of the Centre for Cultural Diversity in Ageing aims to promote discussions around diversity in aged care and focuses on supporting the needs of culturally and linguistically diverse seniors, their families and carers.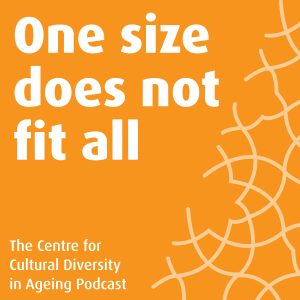 The podcast shares the insights of aged care sector experts and industry leaders, provides practical advice around diversity and inclusion and features stories to inspire and promote good practice. The guests who were interviewed on the podcast have significant expertise in aged care, diversity and leadership.
The first season started in 2022 with four episodes which are available to download on Spotify, Apple and Google as well as on the Centre's website.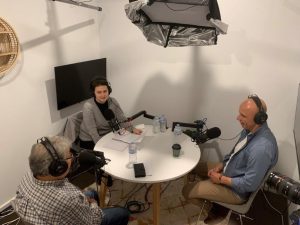 In 2023 the Centre has launched the second season.
These are some of the topics and guest speakers that were featured in Season Two:
In this episode you will hear from Lella Cariddi, who curated many migration stories which have significantly contributed to Victoria's cultural and historic diversity. These stories earned her a 2022 Community History Award for Oral History. She has also worked closely with Multicultural Arts Victoria and various other organisations for which she has been awarded a Medal of the Order of Australia.
You will also hear from Con Pagonis, who has worked for thirty years with the Australian Government mainly in migration and multicultural affairs and spent another eight years as a Multicultural Policy Adviser with State and Local Governments in Victoria. He has also volunteered for many years at Ethnic Communities'​Council of Victoria.
Lella and Con discuss their family's journey of migration, the importance of older people's voices being heard and share tips on how to write your own migrant story.
In this episode you will hear more about issues and experiences of older people from culturally diverse backgrounds shared by two senior leaders who actively participate in shaping the Australian aged care sector.
Dr Santosh Kumar who is the Treasurer of The Northern Federation of Ethnic Senior Citizens Clubs and is a well-travelled former RMIT Professor who has been very active in the community.
Danijela Hlis is a published writer, bicultural social support worker and bilingual Diversional Therapist, who has been working with and advocating for elders and seniors from First Nations people and people from culturally and linguistically diverse background for the past 25 years. 
In this episode, we're speaking with Frank DiBlasi and Phil Peladarinos.
Frank Di Blasi is a senior leader from the Italian community in Melbourne. He is originally from Vizzini in the province of Catania, Sicily, but has called Melbourne home for the past 60 years. Frank has a very long list of achievements that emphasise his commitment to his local community, as well as his Italian heritage and culture.
Phil Peladarinos is the Team Leader – Care Management at Merri Health. Phil was born and raised in Greece and relocated to Australia in the mid-80s. Phil has a background in Aged Care, Mental Health, Local Government and Tertiary Education with almost 35 years' experience in working with culturally diverse communities.
You will hear about their involvement with community groups run by seniors from culturally and linguistically diverse backgrounds and finding a sense of belonging.
The Centre for Cultural Diversity in Ageing acknowledges the contributions of the podcast interviewees for their significant work to advance culturally inclusive care.
The Centre for Cultural Diversity in Ageing is currently in the process of creating more podcast episodes. For more information about the "One does not fit all" podcast series and to access the current episodes, visit our website on: www.culturaldiversity.com.au/news-and-events/podcasts
—
 Recently on PEAH from the Centre for Cultural Diversity in Ageing:
Towards a Culturally Diverse Aged Care System  by Nikolaus Rittinghausen