News Flash Links, as part of the research project PEAH (Policies for Equitable Access to Health), aim to focus on the latest challenges by trade and governments rules to equitable access to health in resource-limited settings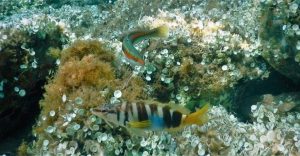 Mediterranean Rainbow Wrasse (Coris Julis)
Painted Comber (Serranus Scriba)
News Flash 494
Weekly Snapshot of Public Health Challenges
How to cope with a world in crisis? MMI policy dialogues 2022 – 26-31 October 2022, as Zoom webinars
Webinar registration: PHM Reflections on Policy Developments on NCD control in WHA 75- 30th Sept, 1 PM UTC
One Health: A Paradigm Whose Time Has Come?
Fault Lines: Global Perspectives on a World in Crisis
International Geneva: missed opportunities, new possibilities
Liz Truss: friend or foe? …The jury is out
The U.S. Government and Global Health
Responsible dissemination of health and medical research: some guidance points
First patient dosed with HIV gene therapy
To Drive Equity In Monkeypox Response, States Should Learn From COVID-19
New recommendations for the composition of influenza vaccines in 2023 for the southern hemisphere
Long-term neurologic outcomes of COVID-19
Health Brief: Long TRIPS must come to an end
Malaria Eradication and Prevention through Innovation by Kirubel Workiye Gebretsadik 
Why We Need a New Grand Bargain for How the World Buys Antibiotics
How Public Health Can Stem the STI Epidemic
Hepatitis C elimination: why prisoners' health must be revalued
Prevention and treatment of infectious diseases in migrants in Europe in the era of universal health coverage
HRR 648: DECLARING A RIGHT IS NOT ENOUGH WITHOUT ENFORCEMENT
A World of One Billion Empty Plates
Small number of huge companies dominate global food chain, study finds
People's Health Dispatch: Bulletin #34: A festival of solidarity and struggle
Global gendered impacts of the Ukraine crisis on energy access and food security and nutrition
Who is responsible for the deaths of children at EU borders?
Horn of Africa drought puts 3.6m children at risk of dropping out of school
Fuel makers blast EU focus on electric vehicles amid energy crisis
L'ALLEVAMENTO INTENSIVO È ENERGIVORO, LE ONG: L'UE STACCHI LA SPINA
India's Toxic Air Set to Continue as New Punjab Leaders Fail to Control Farm Fires
Air Pollution is Linked to Adverse Brain Development in Young Children
German citizens sue government for right to breathe clean air
Member states slam Commission's plans to slash pesticide use
Opinion: World Bank and MDBs must show proactive climate leadership