Menstruation matters in resource-limited countries where poverty substantially impacts menstruation health management. In this connection, PEAH had the pleasure to interview Ugandan stakeholder Ms. Gloria Nirere currently involved as menstrual health management trainer at Kampala based WoMena NGO. Previously, Ms. Nirere long served in poorly equipped Ugandan contexts where she performed tasks concerning clinical research, community health, humanitarian assistance, and project management at local and national level
 By Daniele Dionisio
PEAH – Policies for Equitable Access to Health 
INTERVIEW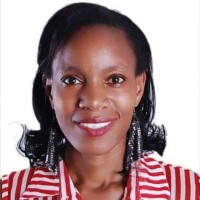 Ms. Gloria Nirere
Menstrual Health Management Trainer
WoMena Uganda  
'Sanitary pads are very hard to buy because the economy is high. Mum cannot give you the money to buy. Not everybody can even get enough money to buy a cotton wool or tissue paper and using a cloth we always fear because it may fall off while with friends'  

— Anonymous (15 years old, Kasese, Uganda) 

Worldwide, a large number of girls and women struggle to manage their menstruation in a dignified way. They not only lack access to menstrual health products, correct knowledge about menstruation and support from their communities but also have limited access to suitable and safe facilities for changing and disposing of sanitary materials.

Source: WoMena
–PEAH: Ms. Nirere, let's start with a glimpse on menstruation matters in your country and to what extent does poverty impact menstruation health management.
–Nirere: Menstrual Health mattters have for long not been considered as an important aspect in the most part of the Country. Most people think menstruation is easy to manage but the details of what entails in menstrual health management are not their concern. You find that out of 10 girls, 1 has knowldge about menstruation for her first time menstrual period and the rest struggle silently with pain and fear not knowing what to do next. It is just a few families where they have got chance to access education where a small light is shed about menstruation. Even up to date, most women and girls shy so much away from discussions related to menstruation.
I would say that poverty highly impacts on menstrual health management because most of the beneficiaries give an excuse of lack of money to buy decent sanitary pads leading them to use papers, a piece of cloth, sponges and leaves. On the other hand traditional beliefs and myths about menstruation has caused a lot of menstrual health challenges where women and girls are not free and comfortable during their periods.
–PEAH: WoMena is an NGO working with implementation of reproductive health solutions in low-income contexts, focusing on menstrual health & management. Tell us more, please, around WoMena story and profile.
–Nirere: The NGO mainly aims at providing menstrual health training to adolescent school girls, women, refuguee settlements, men and boys  and providing menstrual health management products like the menstrual cup with reusable sanitary pads (Afripads).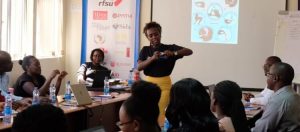 Credit: WoMena
The key focus is to tackle issues that have come up with stigmatising women and girls due to community related beliefs and myths by involving local and national leaders; and male in menstrual health related issues.
–PEAH: In depth, as regards WoMena field activities and approach to menstrual issues?
–Nirere: As a WoMena trainer, field work activities involve: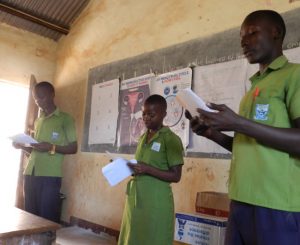 Credit: WoMena
Training of Trainers (T.O.T's), these are participants who are mainly leaders ( Local Council, teachers, church leaders, district heads etc.) in a community. They are trained to volunteer by training the beneficiaries in the community where they belong. After the training, participants are issued with training materials to support them during trainings. However, if they happen to train, normally they are guided by the trainer from WoMena to monitor and support during the training. They are trained so that they can guide a participant to clarify on certain issues in the absence of the WoMena trainer.
In addition, for the case of school going children, the school organises the parent meeting which is mainly held to train parents and get consent of whether they want their children to have the menstrual health products or not.
T.O.B's (Training of Beneficiaries)
The beneficiaries are trained in detail about menstrual health management and product use and care. This training is composed of both female and male sex, the male however excused in the last phase for training of product usage (this is done mainly by schools). At the end of training, their given evaluation forms serve to check whether they acquired knowldege from the training.
Refresher training
Before distribution of the product, a refresher training is held to get the depth of knowledge which was acquired in the first training. It also enables the trainer to know areas that need to be retrained to beneficiaries.
Distribution of menstrual health products
Distribution focuses on consent of a parent to her child (18 years and below) or consent of a beneficiary. It also depends on whether the beneficiary participated in all the trainings. Normally, soap, small bucket, a pair of knickers, menstrual cup and reusable pad are distributed. (this depends on funding organisation on whether to give both the menstrual cup and reusable pad).
Follow ups
After a period of 3 to 6 months, 2  follow ups are done to check on product usage and care, challenges and formulation of reports basing on the information obtained from the field.
NB. The top-bottom approach is used to tackle menstrual health issues since acceptance and cultural issues are majorly the main threat to sensitizing communities about menstrual health issues.
–PEAH: What do you think about the importance of education and male involvement in menstruation matters in Uganda?
–Nirere: It is a very good staregy to involve men in menstrual health issues because when you look at the African setting, the men have most say in financial, social and economic matters of a family and a community. If they ignorate about menstrual health issues, it is very difficult to support their wives, daughters and menstrual health initiatives in communities.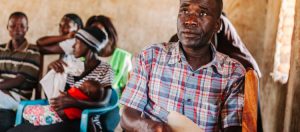 Credit: WoMena
That's is why WoMena is focussing on male involvement in menstrual health issues by not only having male trainers, but also having male coordinators and trainers in local communities to push the message ahead.
– PEAH: What are your duties and tasks in WoMena?
–Nirere: I faciliate menstrual health training through planning for training sessions and materials, conducting training evaluations, carrying out  follow ups and writing reports associated with the outcomes of the training.
– PEAH: Kindly, detail around the effectiveness, safety and acceptance of WoMena backed menstrual cups as menstruation management method in Uganda's reality.
–Nirere: Menstrual cups have not for long been used in Uganda, even the elite women are resisting to use the menstrual cups. Just like any form of new technology being introduced to a place, to which there's always resistance, this as well applies to menstrual cups.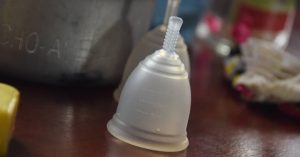 Credit: WoMena
There are majorly two ares which cause fear among women, most wonder wether the virginal area will become wide, some wonder it is too big to enter the vagina  and others fear that it takes away virginity of a girl child which is highly valued. But through trainings, the Organisation has collaborated with other international organisations like Care international, Save the Children, UNHCR to train women and girls on use and care of menstrual product; and tackles frequently asked questions. Currently, the menstrual cups are on market and the number of women and girls using the cup is gradually increasing.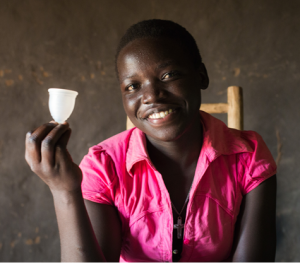 Credit: WoMena
Adoption of the menstrual cup will tackle very many challenges which come with use of disposable pads, among which the cup is durable because it takes 10 years in use, environmentally friendly and it is less expensive since you do not have to buy pads every month.
– PEAH: In this regard, are follow-up study reports on menstrual cups currently available?
–Nirere: Yes, they are available but these reports are shared to partner Organisations which fund projects we do.
–PEAH: Does WoMena work together with national and/or international partners?
–Nirere:  Yes please, information on partners is on the Website.
–PEAH: Before engagement in WoMena you long served in poorly equipped Ugandan contexts where you performed tasks concerning clinical research, community health, humanitarian assistance, and project management at local and national level. What challenges did you face there?
–Nirere: Very many challenges indeed,  but I embrace the fact that I was able to learn a lot of various skills:
First challenge was the strong traditional attachements and ignorance of people. For example, someone tests HIV+ and they go for traditional healers for help. In the process they end up dying or coming to seek medical assistance in critical condition.
There's a lot of dependency where people believe that their lives entirely depend on government support. Even when there's partial support, someone is not willing to top up to get the assistance they need.
Illegal selling of government drugs and extortion of money from patients on free services which is unprofessional.
Selling of donated material or property by beneficiaries to the community, this has created big challenges in refugee settlements.
–PEAH: Thank you Ms. Nirere for your insightful answers and highly commendable engagement