No doubt that Italy has delayed taking some drastic decisions along COVID outbreak and made some operational mistakes. Irrespective of this, Italy has, anyway, provided global policymakers with good practices to follow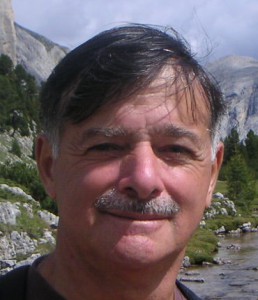 by  Daniele Dionisio
PEAH – Policies for Equitable Access to Health
Italy Experience with COVID-19
Italy was the first European country to halt all air traffic with China and declare a state of emergency on January 31st, while even putting scanners in airports to check arrivals for fever. Unfortunately, it was too late since we are now aware that the virus had been circulating in Italy since early January, if not before.
Doctors dealing with pneumonia in January and until mid February were unaware it was the coronavirus, since the symptoms were so similar to influenza and the coronavirus was still believed to be largely confined to China. Even after Italy documented its February 21st cluster cases, the unusual way COVID-19 could present itself wasn't understood, with some patients rapidly declining to breathing insufficiency.
This comes as no surprise since Italy was the first European country facing the explosion of the COVID-19 crisis. In this context, it was the first country in Europe to impose restrictions when coronavirus cases began to surface in its northern regions in February.
By the beginning of March, the virus had spread to all regions of Italy, though with lesser extent and intensity in central and southern regions than in northern ones.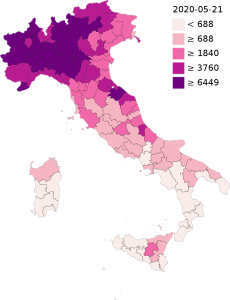 Confirmed cases per million residents in Italy by province (as of 21 May 2020 - source:Wikipedia)
Under these circumstances, Italy was the first country to implement a national quarantine as a result of the dizzying increase and spread of coronavirus cases (on 8 March, Italy confirmed an additional 1,492 cases and 133 deaths, taking it to a total of 7,375 cases and 366 deaths.).
On 9 March 2020, the government of Italy under Prime Minister Giuseppe Conte imposed a nationwide quarantine, restricting the movement of the population except for necessity, work, and health circumstances, in response to the growing pandemic of COVID-19 in the country. Additional lockdown restrictions mandated the temporary closure of non-essential shops and businesses.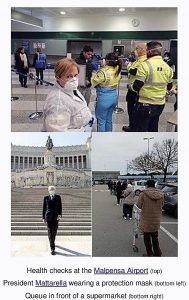 Italian lockdown images (source:Wikipedia)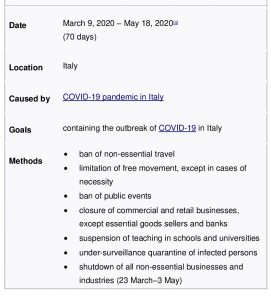 Italy nationwide lockdown (resulting in about 60 million people quarantined - Italian population)
Regardless strict observance of nationwide quarantine measures, hot epidemic days went on, and on 27 March Italy confirmed a new highest single-day death toll with 919 deaths, increasing the country's total to 9,134. Overall, confirmed cases of infection rose to 86,498.
No doubt that Italy has delayed taking some drastic decisions along COVID outbreak and made some operational mistakes. Let me remember here that the outbreak came to light when a 38-year-old Italian tested positive in Codogno, a municipality in the province of Lodi (Lombardy region). On 14 February, he felt unwell and was prescribed treatments for influenza. On 16 February, as the man's condition worsened, he went to Codogno Hospital, reporting respiratory problems. Initially there was no suspicion of COVID-19 and no additional precautionary measures were taken, so allowing the virus to spread undisturbed and infect a number of other patients and health workers, as a ripple effect.
While the fault mentioned above partly arises from being Italy the first European country to be ravaged by the epidemic, at least a couple of further gaps happened during epidemic most hot days in Lombardy:
-Firstly, because Lombardy's intensive care units (ICUs) were already filling up within days of Italy's first cases, many primary care physicians tried to treat and monitor patients at home. Some put them on supplemental oxygen, commonly used for home cases in Italy. That strategy proved deadly, and many died at home or soon after hospitalization, having waited too long to call an ambulance.
– Secondly, a 30 March  regional decree, aimed at easing pressure on Lombardy's ICUs, told nursing home directors to not hospitalize sick residents over 75 if they had other health problems. The decree said it was "opportune to treat them in the same facility to avoid further risks of decline in transport or during the wait in the emergency room." The decree also entitled properly equipped nursing homes as suitable isolation places for COVID patients discharged from hospitals. As for the elderly at some nursing homes the decree amounted to a death warrant.
Notwithstanding the mistakes highlighted above, Italy has, anyway, provided global policymakers with good practices to follow. In this regard, as reported in 'Forbes' on April 14th, six good practices can be highlighted in Italy's response to the Coronavirus. As per the authors terms, these practices would include:
1-Prioritize citizens´ health and well-being
'This point concerns the priority given by the Italian Government and Italian institutions to citizens' health and well-being'.
2-Emphasize transparent communication
'Italian leading figures have preferred to convey clear messages about the extreme seriousness of the situation. In this context, Italian institutions have also done extra-work to control and neutralize the spread of false information, which can so easily run throughout social media'.
3-Focus on flexibility and taking an integrated approach
'Meaning that Organizations that generally work in sectors and contexts that are very distant from each other, have integrated their operational capabilities to deliver important tools and machines to fight against COVID-19'.
'For example, Italian Siare Engineering International Group, one of the four companies in the world producing lung ventilators, has integrated into its organization a team of military engineers in order to guarantee 24-hour production. There are several other similar examples in the country, including the operational integration between the Italian Civil Protection Department and local volunteers' associations, and the cases of small factories producing protection masks and police forces distributing them, among others. Another example worth mentioning is the Italian fashion sector. Companies like Valentino, Calzedonia, Geox, and Prada have quickly moved to the production of masks and other material useful to help sanitary professionals and the population at large'.
'It is interesting to note that the Italian reaction has been neither top-down nor bottom-up. It has instead proved to be an effort of spontaneous, reciprocal collaboration between actors of any kind and any level, who are willing to cooperate in new innovative ways'.
4-The rapid development of an effective emergency logistical system
'Italy has very rapidly developed infrastructures (for example, the development of ad hoc "COVID hospitals" throughout the country) and emergency transportation systems. This complex effort also has involved the coordination between military and civil institutions, in particular for the carriage of people in extreme situations'.
5-An emphasis on professional responsibility
'A systemic culture of professional responsibility in critical professions such as nurses, medical doctors, public servants, etc. has allowed the Italian system to increase the number of professionals fighting against COVID-19. As it was the case, during most hot epidemic days, for the Italian Civil Protection launch of a call requesting the help of 500 volunteer nurses. In less than 48 hours, it received over 9,500 applications'.
6-Urge a coordinated international response
'During the first and second week of February, the Italian Minister of Public Health, Roberto Speranza, worked hard to organize the first extraordinary assembly between all health ministers of the European Union. During the meeting in Brussels on February 13th, the Italian Government expressed the need for all European countries to approach the COVID crisis in an integrated way and to take into serious consideration also the African situation'.
In conclusion, I would like to remark Italy's clear strategic priorities wherein citizens' health and right of information have been put at the top of the national agenda.
When it comes at today's situation, Italian government began to relax lockdown measures earlier this month, when it allowed factories and parks to reopen on 4 May.
Italian cabinet's announcement came shortly after the country, which was once the global epicentre of the pandemic, reported a further decline in its daily death toll.
While Italy reported more than 900 deaths on 27 March, its daily death toll is around or below one hundred now that the number of new cases keeps decreasing.  In this connection, let's have a look at the latest figures released by the National Civil Protection Department.
As of 25 May 2020, the total number of infected persons was 230,158; leading the total of still positive cases to 55,300 (resulting in a decrease of 1,294 cases compared to the day before).
The number of patients in intensive care unit was 541 recording a decrease of 12 patients compared to the day before.
8,185 people were hospitalized with symptoms, a decrease of 428 compared to the day before.
46,574 people, equal to 84% of all infected cases, were in isolation without symptoms or with mild symptoms.
92 new victims were reported, bringing the national death toll to 32,877. The total number of discharged patients who have recovered from the virus rose to 141,981, an increase of 1,502 people compared to the day before.
Therefore, and in aligment with current lockdown easing under government decision, shops and restaurants reopened from 18 May, providing social distancing is enforced.
Catholic churches started resumpting religious services and Mass on the same day under strict social distancing, with worshippers wearing face masks. Other faiths are also allowed to hold religious services.
Mr Conte announced that travel to and from Italy, and between the country's regions would be allowed from 3 June, whereby travellers from EU countries will be able to enter Italy without going into a two-week quarantine.
Gyms, swimming pools and sports centres reopened on 25 May, while cinemas and theatres have to wait until 15 June.
In sum, the announced measures are a key step in the country's efforts to restart its economy after more than two months of lockdown.
In this context, on May 13th, the Italian government released a 'relaunch decree' containing financial measures worth 55 billion euros (59.6 billion U.S. dollars) to support the economy hard hit by the coronavirus pandemic. As part of the decree, the national health service has been allocated 3.25 billion euros, meaning a much higher figure than what our State usually invests in the national health service (SSN) in a whole year. Health service investment was specifically earmarked to regional network, stronger hospital network and health personnel recruitment. Some details:
Regional network
Major financial resources will be invested in reinforcing the regional network, as the more reliable bulwark to count on in epidemic curses like COVID pandemic. As per Health Minister Speranza terms "We are putting 9,600 nurses out on the field, with the figure of family nurse, and we are investing, in particular, in home services for fragile people, which will lift the percentage of people receiving care (in this way) from 4% to 6.7%.
Stronger hospital network
A big chunk of the financial resources will be used to strengthen the hospital network aiming to gain up to 11,109 places in intensive care, 115% more than we had before the COVID emergency. This grounds on the rationale that
"We don't know what's in store for us. The experts have spoken of the possibility of a second wave (of contagion). We must be ready".
Recruitment
On the same wavelength, Minister Speranza also announced that another 240 million euros will be invested in the recruitment of new personnel and 190 will go on incentives for doctors, including by financing another 4,200 specialization bursaries.
Coherently with his mandate, Minister Speranza also told World Health Assembly last week  that Covid-19 vaccine must be a global public good, a right for all.
At the close of this article, find  a couple of links below  to stay updated with day-by-day COVID-19 situation in Italy and national government relevant decisions:

http://www.salute.gov.it/portale/nuovocoronavirus/homeNuovoCoronavirus.jsp?lingua=english

http://www.protezionecivile.gov.it/home