The issue of deployment of Covid-19 vaccines will be a big issue once it hits the market. Find a talk here on the Vaccine Introduction Readiness Assessment Tool (VIRAT), comprehensively referred to as the VIRAT/VRAF (Vaccine Readiness Assessment Framework) 2.0, whereby a workstream was constituted with the joint collaboration from partner agencies - like WHO, UNICEF, GAVI, World Bank, Bill and Melinda Gates Foundation Country Offices - and it was named the COVAX Country Readiness and Delivery Workstream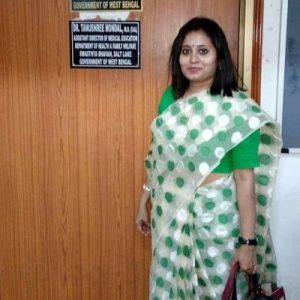 By Dr Tanushree Mondal
Associate Professor and Assistant Director of Medical Education, Government of West Bengal 
Covid-19 VIRAT and VRAF Country Assessment Tool
The Need of the Hour
This year 2020 has revealed a whole lot of secrets, and among those, one of the most salient was the Covid-19 pandemic. This not only took the lives of many innocent people, but at the same time, put the society at stake. With no vaccines around to offer protection, the pandemic seemed to surge its claws. Much had been said and researched about this deadly virus and its vaccine, yet no conclusive results are out yet. However, the countries are getting ready to combat the situation when the vaccine enters the Industry. The issue of deployment of such vaccines will be a big issue once it hits the market. This section talks of the Vaccine Introduction Readiness Assessment Tool, comprehensively referred to as the VIRAT/VRAF (Vaccine Readiness Assessment Framework) 2.0 [1]. This tool has been implemented in many countries post Covid like Sudan, Niger and many other countries.
A Workstream was constituted with the joint collaboration from partner agencies like WHO, UNICEF, GAVI, World Bank, Bill and Melinda Gates Foundation Country Offices and it was named the COVAX Country Readiness and Delivery Workstream [2].
Now what is so special about this tool?
This is a tool that is intended to help all the countries and their Ministries to:
Assess the readiness to introduce COVID-19 vaccines which is the talk of the town
Build a road map for vaccine introduction
Avoid Data Duplications and minimize burden on the country's resources
Identify and analyze the gaps and prioritize actions in order to ensure enhanced readiness
Identify opportunities for financial support through various partner organizations.
Now this tool measures ten key areas such as: Planning Coordination, Budgeting, Regulation, Prioritization and Covid-19 Surveillance, Service Delivery, Training & Supervision, Monitoring Evaluation, Vaccine and Cold Chain Logistics Infrastructure, Safety Surveillance, and last but not the least, Demand Generation and Communication. The tool does not end here, as it is supplemented by fifty more qualitative as well as quantitative indicators. All these information are entered into an Excel file.
The Excel Sheet has five different components, namely:
General indications for use- It describes the timing and intervals to implement critical pre-planning activities. It also enables with activity and areas dashboards to give a graphic illustration of the progress achieved.
National readiness  (Figure 1)
Readiness dashboard activity (Figure 2)
Readiness dashboard areas and
Reference Page- It contains list of planning and technical documents like guidelines, guiding principles etc.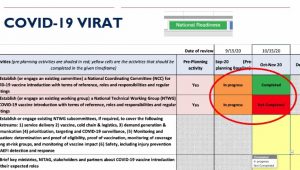 Figure 1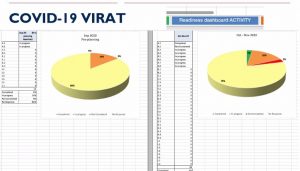 Figure 2
The Supply Chain activities encompass a wide range of areas like strengthening national logistics working group, mapping key roles and responsibilities for vaccine deployment, mapping potential port(s) of entry, point(s) of storage and fallback facilities, assessing dry storage and cold chain capacity at all levels, establishing contractual agreements for vaccine introduction, provision of standard operating procedures for collection and disposal of medical wastes, updating vaccine stock management tools and establishing security arrangements to ensure integrity of the new vaccine.
With such a great initiative undertaken by the Workstream, we can hope for a better future ahead and thereby combat with our challenges that came alongside with the pandemic. 
————————
Essential Reading
[1]- COVID-19 vaccine introduction readiness assessment tool https://www.who.int/publications/i/item/WHO-2019-nCoV-Vaccine-introduction-RA-Tool-2020.1 
[2]- The country readiness and delivery workstream https://www.who.int/initiatives/act-accelerator/covax/covid-19-vaccine-country-readiness-and-delivery/act-accelerator-country-readiness-and-delivery-for-covid-19-vaccines