This forward-looking article tells us how grassroots efforts to improve water access in Uganda have been operationalized by the Rural Water Initiative for Climate Action (RWICA), as a Uganda-based nonprofit aimed at empowering 'communities to meet their water needs and build resilience to climate change by applying a One Health perspective', whereby community engagement is at the core of all activities

By Aisha Nankanja, Monica Agena, and Laura C. Streichert, PhD, MPH
Rural Water Initiative for Climate Action (RWICA), Uganda
For more information, contact:

Aisha Nankanja, ashafaith16@gmail.com

Monica Agena, agenamonica@gmail.com

Laura Streichert, PhD, MPH, lstreichert@gmail.com
Women and Water in Uganda: A One Health Social Science Approach
Any actions done for-- and not with -- a community are destined for failure
Throughout rural Uganda, access to affordable clean water is a major challenge, especially for marginalized and underserved populations. Multi-pronged approaches are needed to address this complex problem. An integrated One Health strategy that considers the linkages between human, animal, and environmental health is relevant because it addresses the multiple causes and impacts of water scarcity.
To be sustainable, solutions must also consider the role of social science disciplines, such as sociology, psychology, economics, and communications. A One Health Social Science (OHSS) approach adds the social context to technical water system problems.
Access to clean water is a right denied to many
Women and children bear the burden of collecting and managing water for household functions.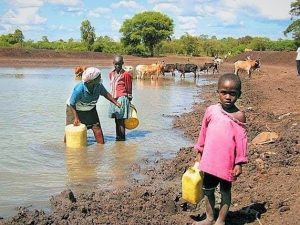 A woman and her children collect contaminated water in a river affected by drought in Mpigi, Uganda. Photo credit: Aisha Nankanja
Gender equity, therefore, is an important component of the water dialogue. Women-led businesses, including hair salons, small vegetable farms, gardens, and restaurants rely on the availability of affordable water. Disruptions cause imbalances in daily routines with more time dedicated to finding water. Piped water, when available, is expensive and out of reach for many in rural areas. For many Ugandan women, tackling with the need for clean water is daily and urgent.
COVID-19 has made water matters worse
The loss of casual labor jobs and income as a result of the ongoing COVID-19 pandemic and economic slowdowns have left many unable to purchase water. As a result, people turn to natural, open water sources that are often further than 1 km away, unprotected, and contaminated by animal and plastic waste. Women face personal safety issues when collecting water in remote places. Children carry heavy jerricans, often missing school to fetch water. With water so precious, compliance with COVID-19 recommendations for healthy behaviors, such as hand-washing, has been nearly impossible.
The negative health consequences of contaminated water are significant. The high prevalence of diarrhea, typhoid, bilharzia, and other waterborne diseases cause widespread suffering, especially among children. Although the water from natural sources may be free of charge, there are addition costs for charcoal to boil it. This also leads to deforestation of local areas for firewood. Targeted education, training, and capacity-building are needed to address low health literacy and to empower women as earners and decision makers.
One Health approaches offer simple solutions with immediate impact
To operationalize grassroots efforts to improve water access, we created the Rural Water Initiative for Climate Action (RWICA), a Uganda-based nonprofit, "to empower communities to meet their water needs and build resilience to climate change by applying a One Health perspective."
The transdisciplinary RWICA team joins expertise in sociology, population health, forestry, community organizing, OHSS, and public policy. Community engagement is at the core of all activities. The RWICA tagline frames OHSS in a way that resonates with Uganda communities: Rethinking how we live with nature (www.rwica.org).
Community engagement is key to project success and sustainability
RWICA's programs in community capacity building, ecosystem conservation, water system solutions, and gender equity are all conducted in partnership with local stakeholders.
Activities with direct community impact have included:
Ecosystem restoration with tree planting and environmental education
Installation of a new rainwater harvesting tank at a primary school
Community Water Education Days with One Health lessons translated into the local Luganda language (onehealthlessons.com)
"Waste to Wealth" trainings for women to create and market objects from repurposed plastic; and
Distribution of over 200 jerricans.
These are simple, low-resource interventions with broad community support catalyzed by a local youth-led organization.
RWICA is a model for youth leadership and OHSS in action
To date, RWICA's grassroots OHSS approach has impacted over 2,500 people, primarily women and youth. Our goal is to amplify our impact by expanding the rain harvesting tanks, Waste to Wealth trainings, and other activities to other sites within Mpigi district. Installing a rainwater harvesting tank at one school underscored the need for implementing this simple solution at other nearby schools and health centers. Policies, education,  and interventions to assist under-served populations are needed to transform community mindsets and to achieve system level changes. These actions should be grounded in research using social science techniques to understand water use practices and to align water solutions with community priorities and needs. Any actions done for– and not with — a community are destined for failure.
References
Buregyeya E, Atusingwize E, Nsamba P, Musoke D, Naigaga I, Kabasa JD, Amuguni H, Bazeyo W. Operationalizing the One Health Approach in Uganda: Challenges and Opportunities. J Epidemiol Glob Health. 2020 Dec;10(4):250-257. doi: 10.2991/jegh.k.200825.001. Epub 2020 Aug 28. PMID: 33009732; PMCID: PMC7758849.
Lapinski MK, Funk JA, Moccia LT. Recommendations for the role of social science research in One Health. Soc Sci Med. 2015 Mar;129:51–60.
Michalon J. Accounting for One Health: Insights from the social sciences. Parasite. 2020;27:56. doi: 10.1051/parasite/2020056. Epub 2020 Nov 3. PMID: 33141659; PMCID: PMC7608981.