News Flash Links, as part of the research project PEAH (Policies for Equitable Access to Health), aim to focus on the latest challenges by trade and governments rules to equitable access to health in resource-limited settings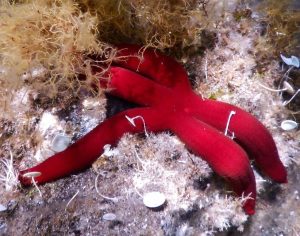 Purple Sea-Star (Ophidiaster Ophidianus)
News Flash 502
Weekly Snapshot of Public Health Challenges
Do we need a European Health Union?
The 2022 Europe report of the Lancet Countdown on health and climate change: towards a climate resilient future
Africa: COP27's 'Loss and Damage' Fund for Developing Countries Could Be a Breakthrough – or Another Empty Climate Promise
COP27: Diplomatic baby steps amid mounting humanitarian crises
At COP 27, joy over 'loss and damage' fund is tempered by reality
COP27 Agrees to Create a 'Loss and Damage' Fund; but Falls Short on Mitigation Ambition
Letter: Climate change is the biggest market failure ever experienced
Q&A: TV contest winner's microplastics innovation
WHO: World Antimicrobial Awareness Week 18 – 24 November 2022
WHO Afro: Resist the Resistance
Best practices to fight antimicrobial resistance
One in Three People Use Antibiotics Without Prescription: WHO Study of Eastern Europe, Caucasus and Central Asia
Estimating antimicrobial resistance burden in Europe—what are the next steps?
As WTO Considers Patent Waiver on COVID Treatments, Some Say it is Too Late
Experimental Covid Pill Wins Emergency Approval in Japan
Is the first malaria vaccine worth the cost?
The HPV vaccine market is changing. But there are other access threats
DNDi: SAFER, SHORTER TREATMENT FOR VISCERAL LEISHMANIASIS SHOWN EFFECTIVE IN EASTERN AFRICA
Oral Health Neglect: The Overlooked Crisis Affecting 3.5 Billion People
Diagnostics Not Just Insulin Needed to Fight Diabetes
G2H2 REPORT FINANCIAL JUSTICE FOR PANDEMIC PREVENTION, PREPAREDNESS & RESPONSE
What about Debt Cancellation to Help Prevent Future Pandemics?
Webinar registration: Make pooling work to end pandemics: reactions on the C-TAP report Dec 2, 2022 03:00 PM in Amsterdam
MSF publishes first Clinical Trial Transparency Policy
How can disclosing clinical trial costs increase access to medical products? A discussion to explore practical implementation of disclosing clinical trial costs: why should this be done and how?
Mega-project to detect missing clinical trial results across five European countries
Safeguarding research staff "in the field": a blind spot in ethics guidelines
People's Health Dispatch Bulletin #38: Health workers and patients demand strong primary health care
A Looming Crisis of Public Finances Spells Trouble for Universal Health Coverage in Low- and Middle-Income Countries
How Providing Childcare Affects the Grandparents (and Everyone Else in the Family): Evidence from Brazil
Bridging the global health divide: reflections of scholars in the global south
Africa: Pan-African Approach Needed to Tackle Food Insecurity Arising From Conflict and Climate Shocks