News Flash Links, as part of the research project PEAH (Policies for Equitable Access to Health), aim to focus on the latest challenges by trade and governments rules to equitable access to health in resource-limited settings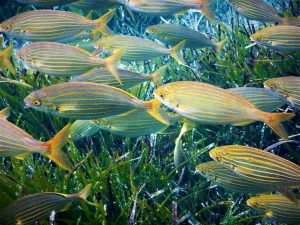 Salema fish (Salpa Salpa)
News Flash 491
Weekly Snapshot of Public Health Challenges
The call for abstracts EECA INTERACT 2022 is open. Please, apply!
Webinar registration: CSO DG dialogue on climate and health Sep 5, 2022 02:00 PM in Amsterdam, Berlin, Rome, Stockholm, Vienna
First adapted COVID-19 booster vaccines recommended for approval in the EU
US Food and Drug Administration Approves Omicron-Targeting COVID-19 Boosters for Fall
Scientists question Moderna invention claim in COVID-19 vaccine dispute: Company sues rivals Pfizer and BioNTech over mRNA technology
India pitches for special WTO meet to expand scope of Covid IP waiver
Poor Vaccines Coverage in Pandemic Blamed on Multiple Barriers

Research characterizes clinical and epidemiologic features of SARS-CoV-2 in pets
Novel Coronaviruses Are Riskiest for Spillover
WHO Lists Entities That Can Engage with Pandemic Treaty Negotiating Body
Why We Need A Pandemic Treaty Built For Accountability & Financial Assistance To Countries That Need It
The New Abnormal by Brian Johnston
Access (or not) to vaccines for monkeypox in Africa: a sense of déjà vu?
Substandard and falsified antibiotics: neglected drivers of antimicrobial resistance?
Reflections on research ethics in a public health emergency: Experiences of Brazilian women affected by Zika
Principles for Access to Multi-disease Molecular Diagnostics
WHO product review process needs better clarity: External report
Half of health care facilities globally lack basic hygiene services – WHO, UNICEF
A Message From Global Initiative for Environment and Reconciliation – GER Rwanda by Innocent Musore 
European towns exchange good practices to boost migrants' integration
The Reality of Ethics and the Role of Disruptive Technologies in the Medical Data Industry: How Do They Align? by Tomas Mainil  
Reimagining human rights in global health: what will it take?
The Berlin Wall Between Welfare and Health in Iran: Who Gains the Health Subsidies? by Manal Etemadi
Africa's water woes 'driving up food prices' 
Is There Any Point Defining a 'Climate Migrant'?
A "hierarchy of suffering" exacerbates asylum seekers' mental health in Lithuania
What Satellite Data Can (And Can't) Tell Us About Climate-Affected Migration 
 ONE HEALTH ONE WORLD by Kirubel Workiye Gebretsadik 
'Time has run out': UN fails to reach agreement to protect marine life
Commission adopts new rules to fastrack approval of biological pesticides
Latin America Looks to COP27: 'The Time to See Ourselves Only as Climate Victims is Over'
When open letters work: publication of the EU proposal on pollution emission standards for vehicles